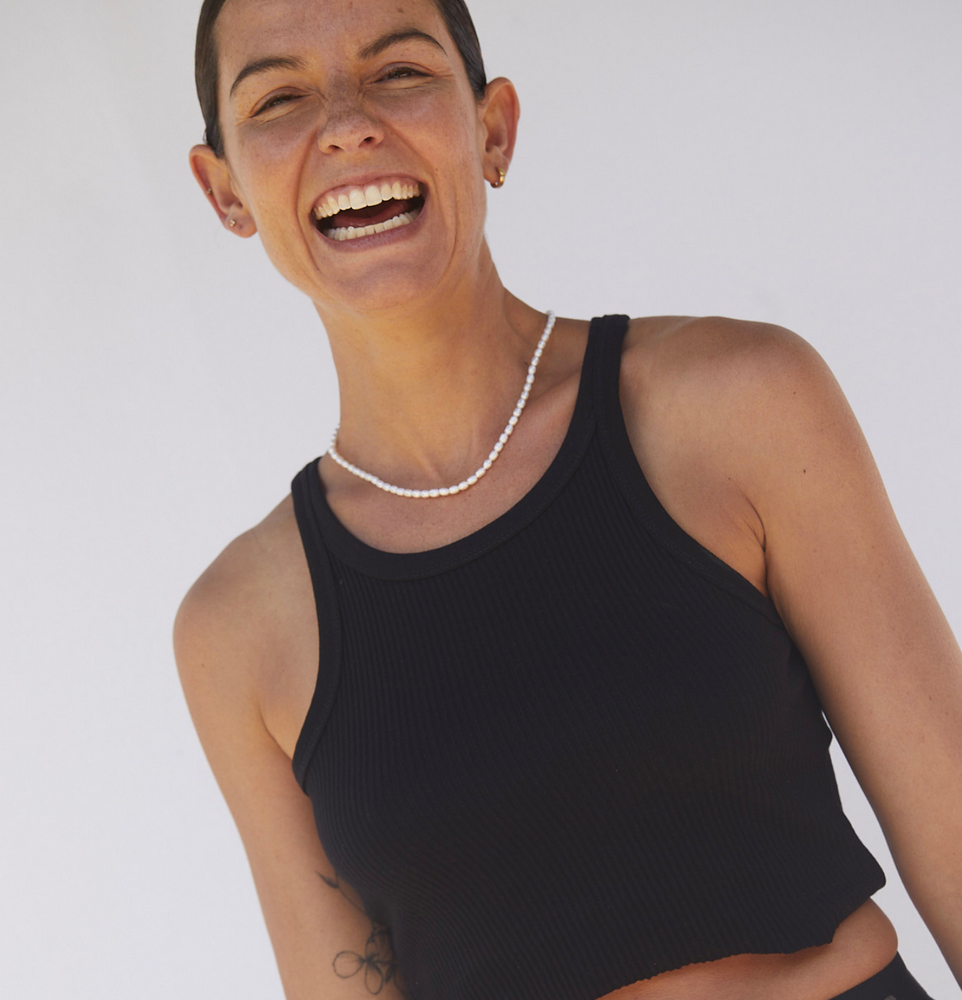 Featured
Q&A with Maryanne Edwards
WHEN DID YOU LAST FEEL HAPPIEST?
Last night making dinner with my family, my young nieces are super cute and we made our own soft tacos from scratch – a big mess of dough, rolling pins and laughter.
WHAT IS YOUR FAVOURITE SOUND?
The ocean on a gentle day, right as a tiny wave touches the shoreline. 
WHAT IS IT THAT MOST ATTRACTS YOU TO SOMEONE?
Quiet confidence, they know who they are without having to declare it loudly. 
WHEN DO YOU MOST FEEL YOUR SENSE OF POWER IN BEING A WOMAN?
When I'm in my body, moving intuitively. 
HOW DO YOU FEEL ABOUT AGEING?
From the privileged vantage point of being in my prime, I feel like I'm in a golden age of knowing myself, feeling well and not caring too much about how that looks but I'm not yet struggling with the visible signs… so I can only hope to embrace it graciously. I do know that the older I get the less fucks I give about that sort of stuff. 
WHAT'S YOUR FAVOURITE MARKING ON YOUR BODY?
I have a freckle above my left breast that has been a familiar companion for many years now, I like her.
"I have a freckle above my left breast that has been a familiar companion for many years now, I like her."
IS THERE ANYTHING YOU BELIEVED TO BE TRUE AS A GIRL ABOUT BEING A FEMALE THAT YOU HAVE FOUND TO BE TRUE WITH AGE?
I always believed women are allowed to be sensitive and bold, and I feel that still holds true even if I have to really claim that sometimes. 
IS THERE ANYTHING THAT PROVED TO BE UNTRUE?
That a woman has to have a baby to access her maternal nature. 
WHAT IS YOUR RELATIONSHIP WITH YOUR MENSTRUAL CYCLE?
I love that it happens fairly regularly letting me know my body is working in alignment with nature, sometimes when it syncs with the moon I'm particularly delighted, I feel like it lets me know if I've been staying close to balance. 
WE GROW AND EVOLVE AS HUMANS, BUT THERE IS USUALLY ONE VIRTUE THAT IS INDIVIDUAL TO US. WHAT IS YOURS?
Harmony, all the archetypal quizzes remind me I value peacekeeping and unity above other dynamics. Which has pros and cons to it – I have had to learn conflict is not innately bad and often brings a deeper harmony through what is learned. 
HOW DO YOU FEEL ABOUT YOUR CONNECTION TO EARTH?
It's an interesting time to connect with the earth because when you really get close to it there's a lot of grief there, so I try to tread lightly on her and advocate for the kindest choices.  
IF A GIRL FOUND YOUR NAME ON THE INTERNET 100 YEARS FROM NOW, WHAT WOULD YOU LIKE TO HAVE SAID ABOUT YOU?
Maryanne was gentle and generous, kind but stood her ground for the justice of people and plights that touched her heart. 
← Back to the blog