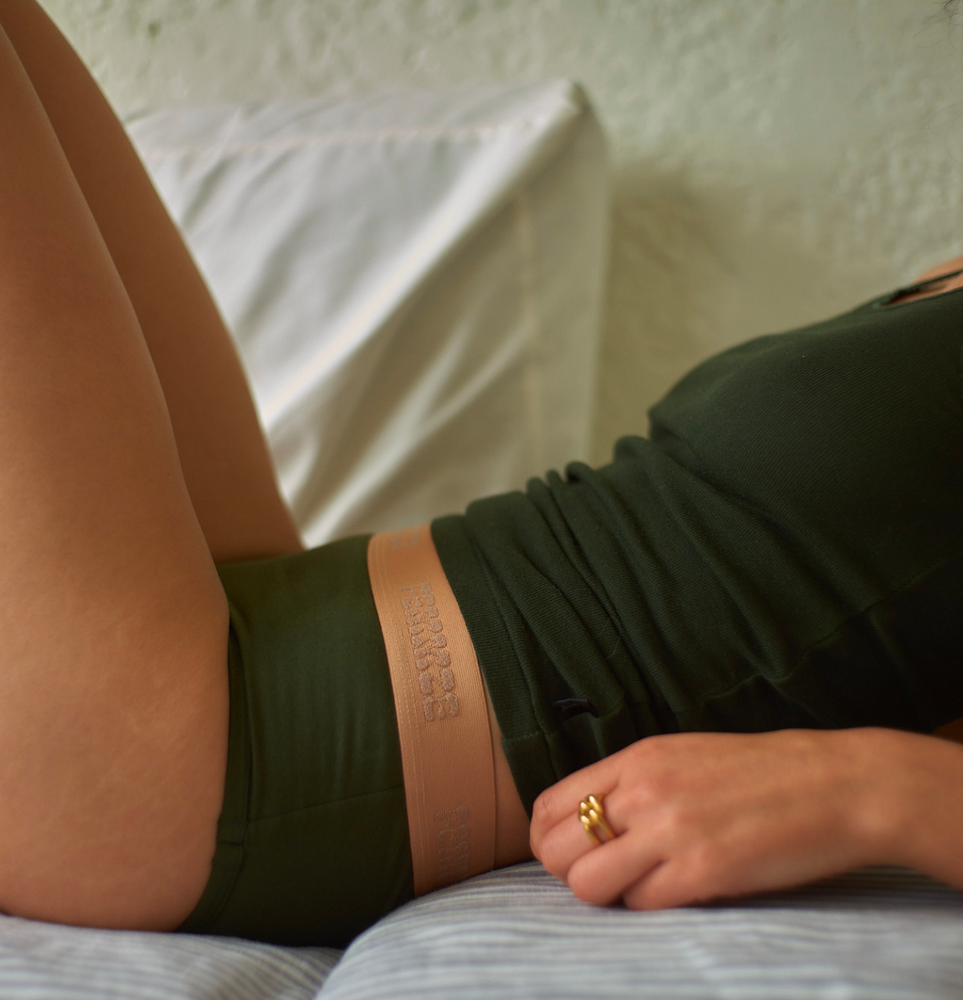 HOW DO I CARE FOR MY FEMMZE?
Caring for your FEMMZE is simple.
1. Rinse after use.
2. Cold, gentle machine wash.
3. Hang to dry.
WHY ARE FEMMZE MORE EXPENSIVE THAN OTHER LEAK-PROOF UNDERWEAR BRANDS? 
We have carefully chosen high quality fabrics that are sourced from only sustainability minded suppliers, and vetted by a specialist consultant. This process is expensive and comes with high surcharges for small brands. Unfortunately, to be ethical and sustainable it's not something the textile industry makes easy. We have hope this evolves over time as the demand becomes more mainstream. FEMMZE also focuses on high performance designer fits that are made to last. Each style has been meticulously designed and considered to make sure we are bringing to life a product with purpose.
WHAT ABOUT ODOUR?
Another thing you won't have to worry about. Our woolmark approved ethical liners are naturally deodorising, and our absorbent layer is anti-bacterial and odour treated.
CAN I WEAR THEM ALL DAY?
Yes! but it does depend on your personal preference, everyone's flow is unique. They will work perfectly all day for light to moderate flows and for heavier flows you might like to have a spare pair to change into if needed.
"FREEYOU15 for 15% off 5 pairs. FREEYOU10 for 10% off 3 pairs. Just enter the code at the checkout."
HOW LONG DO THEY LAST?
We can stand by the fact that FEMMZE is made to last. Our cotton collection will last a minimum of 12 months or more. We have incredibly high standards when it comes to textiles and the engineering of our underwear to ensure durability and longevity it's the foundation of our brand.
HOW MANY PAIRS DO I NEED FOR MY WHOLE CYCLE?
We suggest 5 pairs in various absorbencies so you are covered from light to heavy flow days. This also gives you time to wash and dry them. To help get you started on your FEMMZE journey, we have a pack offer with special discounts when you buy more than two pairs (plus you'll qualify for free shipping).
IF I AM IN BETWEEN SIZES, SHOULD I GO UP OR DOWN A SIZE? 
We suggest going up a size if you want them a bit more relaxed. Keep in mind FEMMZE has been designed to be form fitting, making sure the leg measurement will not be loose to avoid any chance of leakage. 
Got a question about FEMMZE? We love hearing from you! Get in touch at hello@femmze.com to learn more about our premium leak-proof underwear.
← Back to the blog